Let Freedom Ring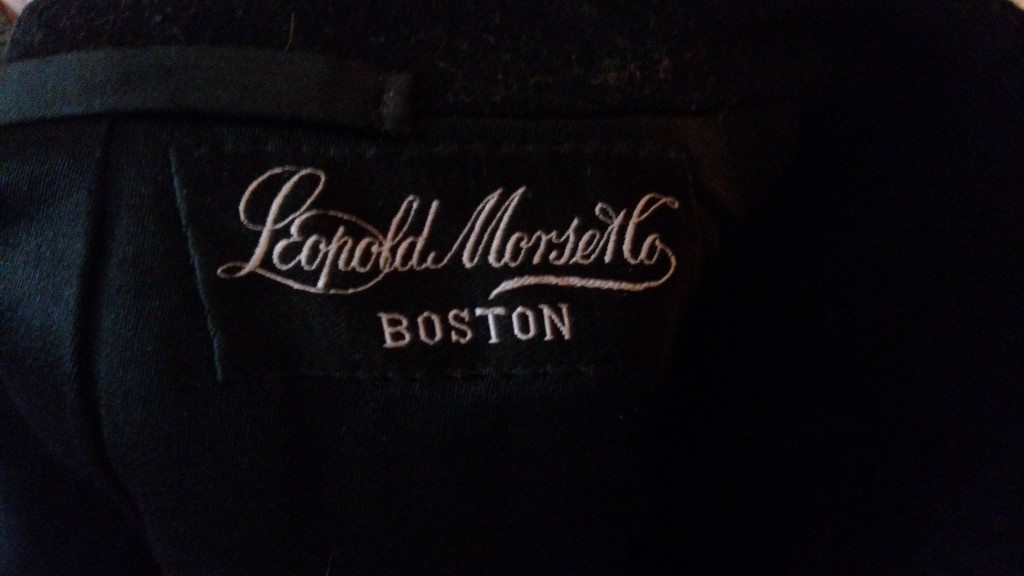 guest post by Aileen Dashurova
Years ago I was shoppping with a friend in a Salvation Army store in Cambridge, MA. On the end of the first rack that I encountered, I saw the most magnificent historic formal military topcoat for $5.00. I slid it on my body, where it aligned perfectly to my size, and immediately bought it.
Although I love this coat, I have not had many occasions to wear it. On Monday, May 2, 2016, the opportunity opened up for me to wear this coat purposefully and proudly at Boston City Hall Plaza.
I selected an outfit for that day that represented me in my multi-facetedness: black riding boots, dark red tights, a skirt made out of patriotic men's ties that my daughter had given me a few Christmases earlier, a nicely pressed collared white shirt, a red ascot, and the formal topcoat from the 1800s.
The heavy black wool military coat is tagged on the inside of the back collar with a label displaying that it was made in Boston, a city of great political transformation — and the location in which it was now being worn. I noted that the metal piece on the waist side probably held a sword, the pockets located in the coat's tail suggesting that the wearer was riding on horseback, and several other details exemplified the garment's stoic and majestic nature.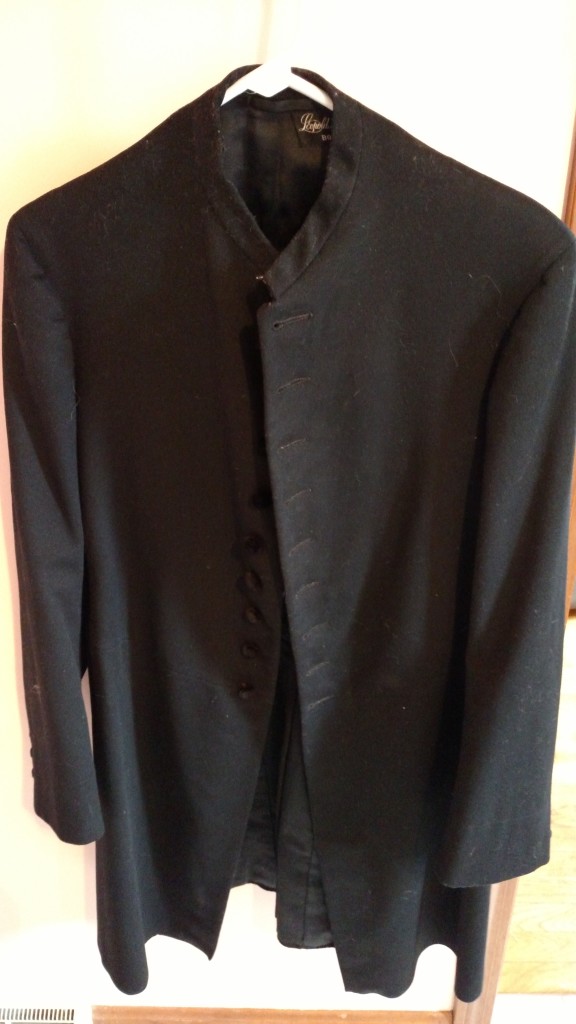 My intentional outfit was more than apropos for the occasion: the raising of the Transgender Flag in Boston City Plaza to show the city's commitment to fair, just, and equal treatment of Transgender and Gender non-conforming citizens of Massachusetts.
My attire consisted of and represented the revolution, fight, sustainability, and marshalling of justice that our forebearers worked so hard to procure. I proudly wore this coat and the whole ensemble, carrying the original owner's pride in his/her country and the freedoms that it offers into our present day.
"Let Freedom Ring" is how I felt as I stood outside in the cold drizzling rain listening to the powerful and inspirational speeches of our government officials.
"Let Freedom Ring" I exuded as the Butterfly Chorus comprised of Transgender singers stepped up to the microphone with exposed faces and hearts to show themselves in celebration.
"Let Freedom Ring" I proclaimed as I introduced myself and shook hands with Transgender and Gender non-conforming new friends of all ages as we rejoiced together to hear what was said.
With camera crews, journalists, news personnel, and a handful of Transgender and Gender non-conforming people along with Queer Allies surrounding me, I stood stoic and majestic in another historic commitment Call to Action for Freedom.
I believe wholeheartedly that the person who wore this coat many years ago was smiling with a proud heart. I expect that s/he was experiencing overwhelming pride and approval as I cheered, clapped, and felt a welling of tears that day.
The stand for Freedom and Justice for all has been claimed and demonstrated once more and this coat, our coat, was there in all of its overseeing glory once again.
Aileen Dashurova is a specialist of Energy Medicine with a family practice in Nantucket and Westford Massachusetts. Aileen engages the world joyfully to support people of all ages to master their success. Her daily inspirational writing is available on her Facebook page.
xxx
xxx
xxx
xxxxxx
xxxxx
________________
I'd love to stay in touch with you! When you sign up for my mailing list, you'll receive my monthly newsletter with reflections on life and liberation, as well as my e-book, "9 Keys to a Liberated Life."